Zinc is an automated referencing tool that allows candidates to view, own and reuse references throughout their career. Zinc is easy to use, saves you and your referees time, and you will only have to collect the reference once to use it throughout your career. With a blockchain-based backend, Zinc offers an opportunity for you to truly control & own your information.
Here's a step-by-step process to collecting your first reference.
1. Sign up to Zinc
We recommend signing up with LinkedIn so you can connect your online professional profiles.
2. Request a reference
Go to your Zinc profile page. Click the 'request reference' button on the top right of the page. Complete the form: enter your referee's name, email, mobile number (optional) and personalise a note to them. Hitting submit will cost you 10 tokens. Users on the free plan get 30 tokens per month. Have a look at the questions the referee will receive in this example profile. Currently candidates cannot customise these questions.
3. Zinc contacts your referee
Your nominated referee will receive an email and a text from Zinc requesting the reference. If they don't respond Zinc will send up to three reminder emails over six days. If you haven't received your reference after a couple of days, you may want to prompt your referee to respond and ask them to check their spam for an email from contact@zinc.work. Fast responses speed up the hiring process and could give you an advantage in your search for that perfect position.
4. Read the reference
When your referee completes the reference you'll receive two notifications: one to your email and one in your Zinc account. Click the link in the email and you'll see the reference appear on your profile. You can choose to set your whole profile or an individual reference to public or private. This data is owned by you and you decide who views it.  
5. Use the reference for future jobs
You can share your profile with prospective employers. Your references are stored on the blockchain which means the data can never be corrupted—you will own a permanent record of this information that could give you an edge over other candidates looking for work.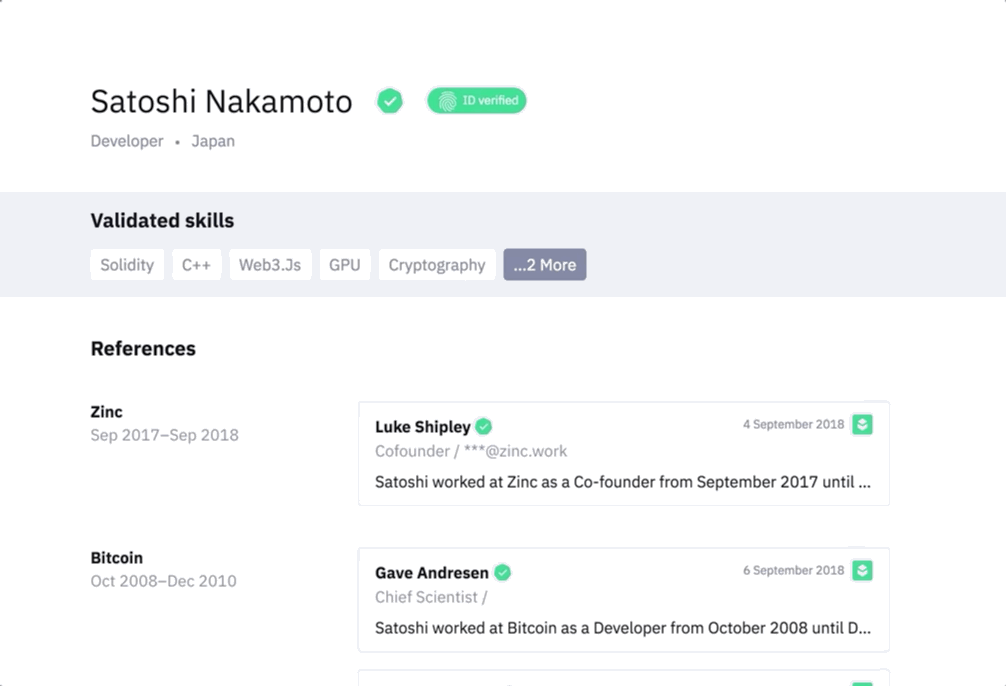 Get in touch if you'd like support: hello@zinc.work. Or we'd love to hear your feedback.
---
Start building your verified reference profile
Don't wait until a recruiter asks you for references. Get hired faster with Zinc and collect up to three work references per month for free.